Project details
Year

2022

Programme

Illustration

Practices

Commercial

Minor

Branding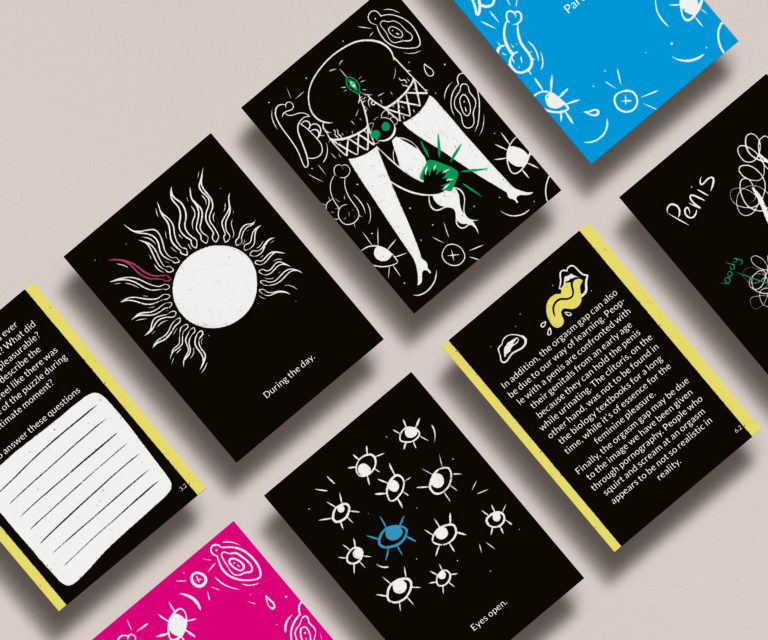 The orgasm. For some it sounds like music to their ears, for others like the mysterious unknown. Talking about it can be exciting and confusing at times.
Luckily illustrator and feminist Sterre Baaima comes with 
The O-Game. This card game will help you discover your body and help you to find your orgasm. It also gives you information about things you may not know yet, such as the orgasmgap and the sexual response cycle.
The O-Game is a light-hearted guideline for all genders and sexualities.
So take some time for yourself. Turn off your mobile, lock the door and start playing. And who knows, you might end up winning the ultimate prize; a big and spectacular or small and nice orgasm!
Sterre Baaima is a Dutch illustrator and proud feminist. She creates different kind of illustrations under the name Studio Jansje and combines subjects surrounding feminism in to her artwork. Right now she's focussing on breaking the taboo surrounding sexuality and diversity.

Interested to see more work of Sterre? You can find her most resent work on @studiojansje on Instagram or visit her website: www.sterrebaaima.wixsite.com/studiojansje