Graduation Show Willem de Kooning Academy & Piet Zwart Institute 2020
On this page, we will inform you about the details of every Graduation 2020 event. Continue to visit this platform and our main website to find information, resources, and announcements regarding The Chain of Events planning.
Based on the themes of the graduation projects and research (BA and MA), we will curate several events within a selection of the most actual topics. Numerous thematic events will take place between October 2020 and the end of March 2021.
Curating events during the big Rotterdam/Dutch art and design events in 2021 is also a part of the plan. 
Chain of Events | Graduates 2020
Online Calendar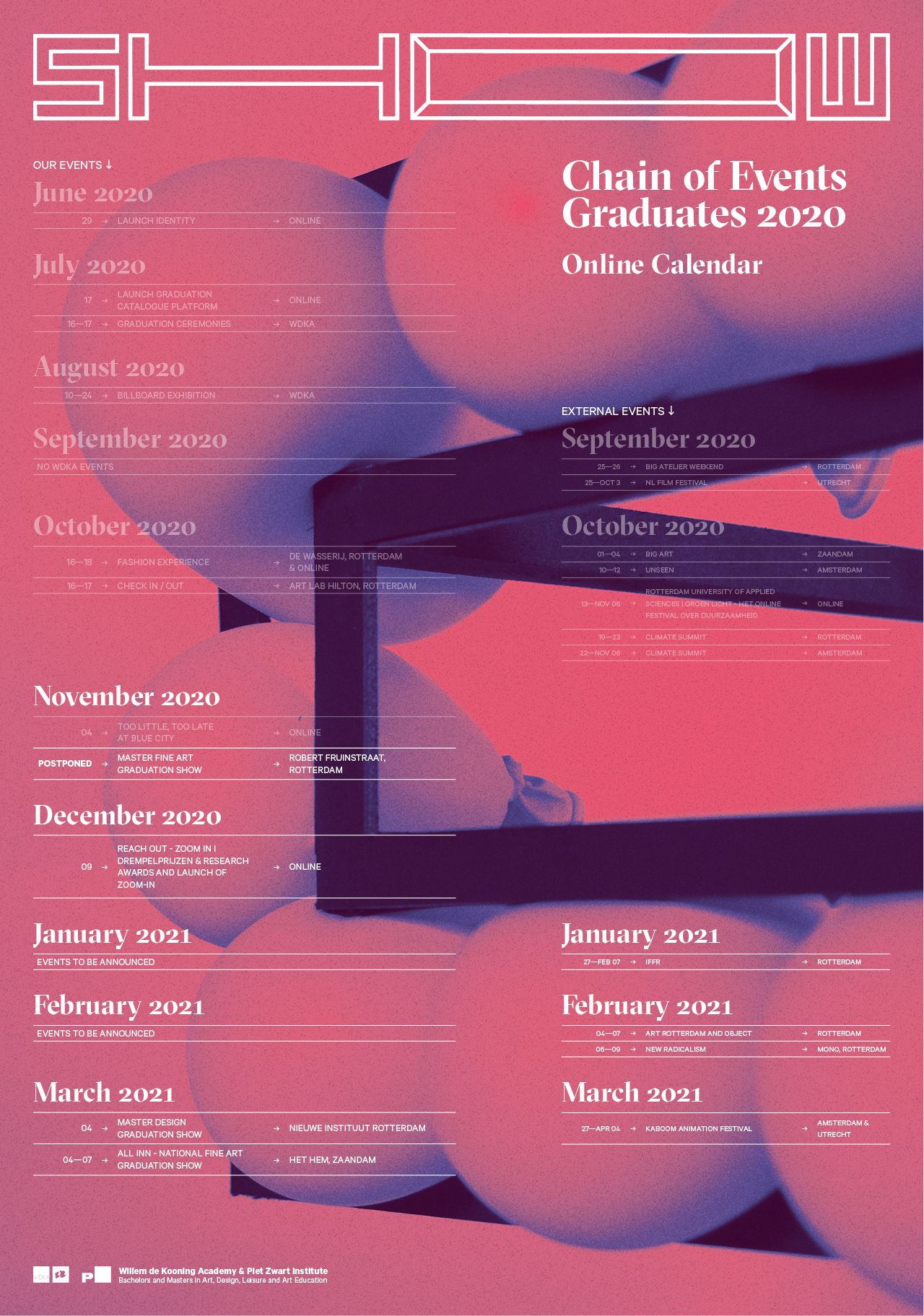 Find the pdf format here.
The events overview for the coming month:
December 2020

POSTPONED | Piet Zwart Institute: Master Fine Art Graduation Exhibition at the former Archive building, Robert Fruinstraat, Rotterdam  
A separate invitation with detailed information and codes of conduct will be sent to all our relations and partners later this month.  
Please note: For all the live events outside the WdKA buildings, we follow the government and municipality's regulations and guidelines for art spaces and musea. We will organise the events only if we can guarantee our participants and visitors a safe and pleasant stay according to the Dutch government guidelines.
 
December 9, 2020 | Reach Out – Zoom-in, Drempelprijzen & Research Awards Ceremony and launch Zoom-In
An online festive event where we proudly present the winners of our annual Research Awards and Drempelprijzen, and the launch of Zoom-In, a film portrait of selected students and their graduation projects.  
You can watch this online event – hosted at our Research Station – through this livestream.
 
Curious who won the Awards? Check out the winners of the Drempelprijzen and the Research Awards (will be published tonight after the ceremony).

For more information on this years' Research Awards and Drempelprijzen nominees, please visit this link with outstanding performances of our Graduates.
  
The evening will be moderated by Miriam Rasch, Coordinator Research Station. 
Save the Date
March 4, 2021 from 17.00 – 21.30 hrs | Master Design
Graduation Exhibition and Symposium at het Nieuwe Instituut, Rotterdam.
March 4 – 7, 2021 | ALL- INN
A national fine arts graduates show of 175 artists and 9 academies
Het HEM. Nine art academies, a hundred and seventy-five young artists, one exhibition. For the first time in history, recently graduated art academy students from all fine arts bachelor's programmes in the Netherlands are presenting their work together.
The initiative, organised by a team of twenty-five recent graduates under the direction of curator Rieke Vos, will take shape in an extensive exhibition with a lively public programme. ALL INN will take place from four to seven March 2021 in the spacious factory hall of Het HEM in Zaandam. Read more.
Next to the programme initiated by WdKA, many of our graduates are working on the organisation of their own events. We are proud to promote these events on our websites and social media.

POSTPONED | ALL INN – National Fine Art Graduation Show in Het HEM, Zaandam (this event is in a concept phase, we'll keep you posted)
This podium will show the year 2020 graduation projects of 170 students of all Art Schools in the Netherlands.
Open Call for all individual initiatives
We invite all of the alumni of 2020 to share ideas about events with us. If you are planning to participate in events in or outside Rotterdam with your graduation project, please let us know and we will help you with the promotion of your event.  Making the Chain of Events a success is a joint effort.
Previous Events
November 4, 2020 | Too Little Too Late at BlueCity, Rotterdam
This online event was part of the online Climate Weeks Amsterdam and Rotterdam and of the Climate festival Groenlicht, organised by Rotterdam University of Applied Sciences. Please visit their website for more information and watch the recorded online event soon. Read more.
August 10-20, WalkByExhibition
Our Extraordinary Chain of Events continues kicked-off of with a WalkByExhibition on billboards throughout the city of Rotterdam. All work was freely accessible outdoors from Monday, August 10.