To Err is Human
Project details
Year

2023

Programme

Bachelor – Fashion Design

Practices

Honours Programme

Minor

Visual Culture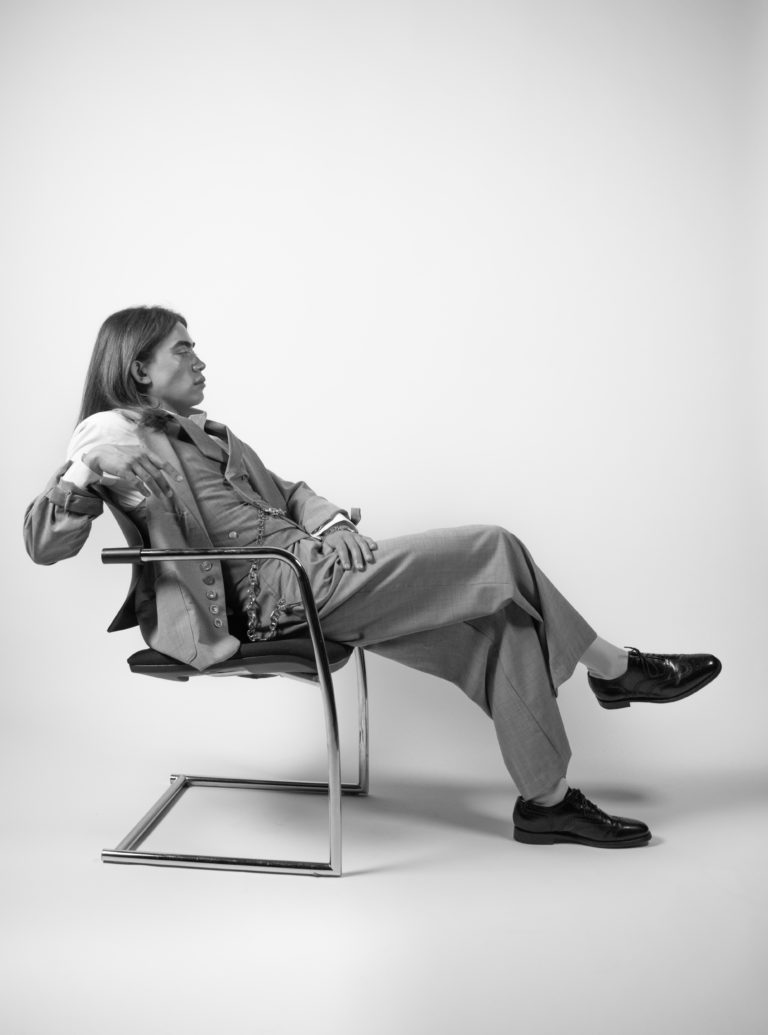 Electronic Membrane is a small collection of formal men's suits, gray summer suits, to be precise—a staple item in the pantheon of traditional dress. It features 10 digitally rendered looks, 4 physical looks and 1 traditionally tailored look. With an overall oversized aesthetic, as popular in the 1930s and the 1980s, that is back again in the current Zeitgeist. I was inspired by the juxtaposition of the relaxed, casual 80s attitude we see in an Armani or Perry Ellis suit against the signals and impressions formal suits still make in society because of our assumptions about who wears them.
In the 1930's your activity on any particular day determined the suit you wore, I decided to look into what style of suits I wanted to make following the guidelines that existed then. The Blog "Gentleman's Gazette" considers the 1930's the Golden Age of Menswear and even published a styling guidebook on the topic. In The Gentlemen of the Golden Age, Elegant Fashion Illustrations of the 1930's by Sven Raphael Schneider there are 10 variations on a gray suit mentioned (Gray Sharkskin Suit, Mid-Gray Windowpane Suit with Patch Pockets, Gray Country Suit, Gray Herringbone Tweed Suit, Gray Diagonal Twill Suit, Gray Small Checked Suit, Blue and Gray Tweed Check Suit, Light Gray Tropical Worsted Suit, Striped Double-breasted Gray Flannel Suit, Gray Checked Seersucker Suit) more than any other colour. Simply put "A solid gray suit that is neither too dark nor too light can be dressed up and down as the occasion or your whim dictates." (The Gentlemen of the Golden Age, 2015, p.22). Elegant, made for the city or the countryside the gay suit can be worn during leisure and business, this appeals to the young generation of non-suit wearers that don't distinguish between these things in the comfortable street wear clothes they normally wear. I opted for light summer fabrics of mixed wool and cotton because my collection will be debuting in the summer of 2023 and I wanted to be season appropriate.
My design practice focuses on designing with digital tools, and I wanted to take the opportunity to showcase how expanding traditional tailoring and combining it with digital design might bring suits into the consciousness of my demographic.
In this design process I chose to work with an Image generating Ai and highlight the "mistakes" the machine made in its attempts to generate clothes. By doing this my designs are not breaking for traditional aesthetics of suits but rather the "mistakes" break the rules and disrupt the class signals the design elements once represented. Instead, we embrace the creativity and individuality of the wearer. Working in this way I was able to let past fashions and traditions inspire my garments while consciously and symbolically incorporating AI-generated mistakes that appeared during the design process.
I am a menswear designer and a rule breaker. In our society, there are still rules regarding dress and situation. Some people feel personally attacked (or their realities challenged) when others break these rules. I am not too fond of authority or rules. Simple rule-breaking actions (like making clothing interestingly different) appeal to me.
The name of my collection "Electronic Membrane" is inspired by the idea of stepping through a border between physical and digital reality to experience digital fashion.