Project details
Year

2022

Programme

animation

Practices

Social

Minor

Visual Cultures
↳ Website
Rotkind is a short stop-motion animated film currently in making by three animation students; Anej Golčar, Tatevik Martirosyan and Eva Schets.
We follow a 60-year-old Harold, raised by his authoritarian mother who is trying to break free by finding his voice for the first time. And hiding a corpse in the meanwhile. Also committing social security fraud on the side.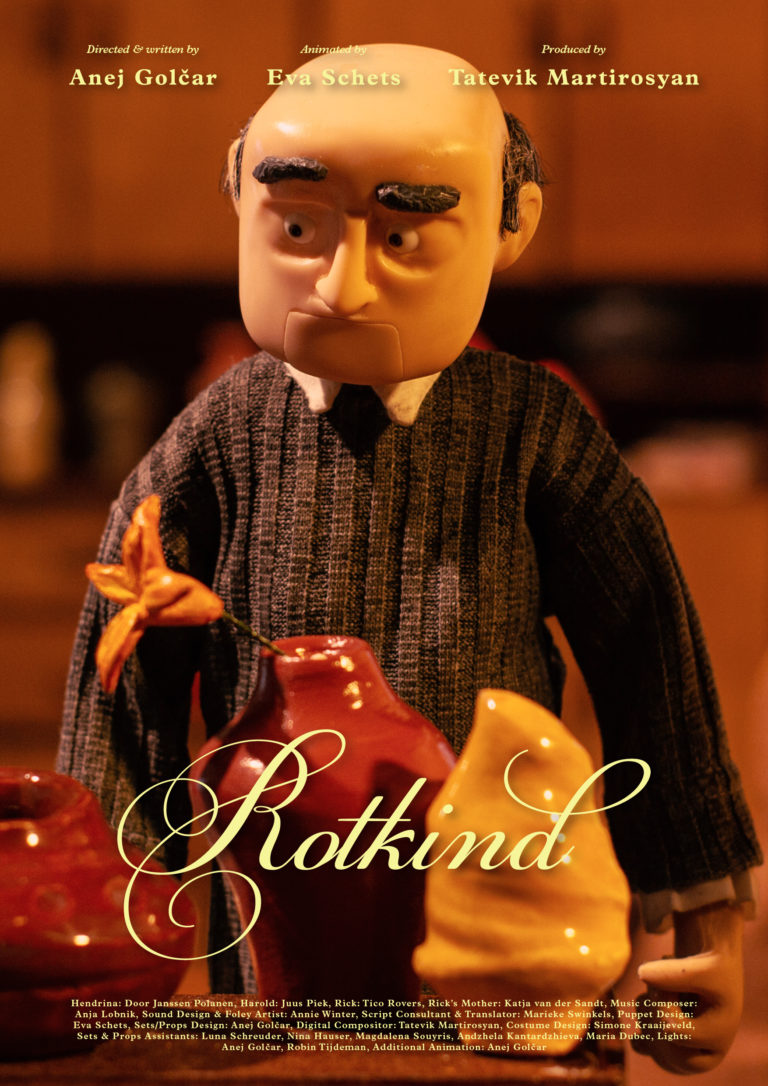 Synopsis:
60-year-old Harold still lives with his elderly mother Hendrina. She has been an authoritarian mother who has always put her obsession with vases above her son. As a result, Harold still believes he depends on her and can't live on his own. The figure of a revolting and disrespectful teenage neighbor awakens Harold's desire to emancipate right before his mother passes away. Now, abruptly liberated Harold, steps upon a path of coming to terms with his independence, leaving behind Hendrina's rules and money.
(Due to the festival run restrictions, film isn't publicly accessible yet. But feel free to ask me for the password via the contact form)
My Journey as a Director and Set Designer
Rotkind – My Journey as a Director and Set Designer
Film Stills
Behind the Scenes
The Team:
Writer, director and set/prop designer: Anej Golčar
Producer and art director: Tatevik Martirosyan
Lead animator/animation supervisor and puppet maker: Eva Schets
Composer: Anja Lobnik
Sound designer: Annie Winter
Find me: