XXX — Objects Exposing Porn Language
Project details
Year

2022

Programme

Graphic Design

Practices

Commercial

Minor

Branding
This piece contains graphic content. Therefore, audience caution and an 18+
age are recommended.
Objects Exposing Porn Language
There are many subjects that still remain taboo in 2022; sex and female pleasure being at the forefront. As one of the most popular sectors of the sex industry, porn plays an integral role in how we view sex and what is considered "normal" within our reality. However, acting as a double-edged sword; mainstream* internet porn has become both a medium for sexual exploration and sexual exploitation. In today's mainstream porn landscape the narrative against women continues to be overtly negative — both consciously and subconsciously.
*pornographic videos found on popular tube sites that intend to arouse a (middle-class) male audience sexually whose ratio is often male to female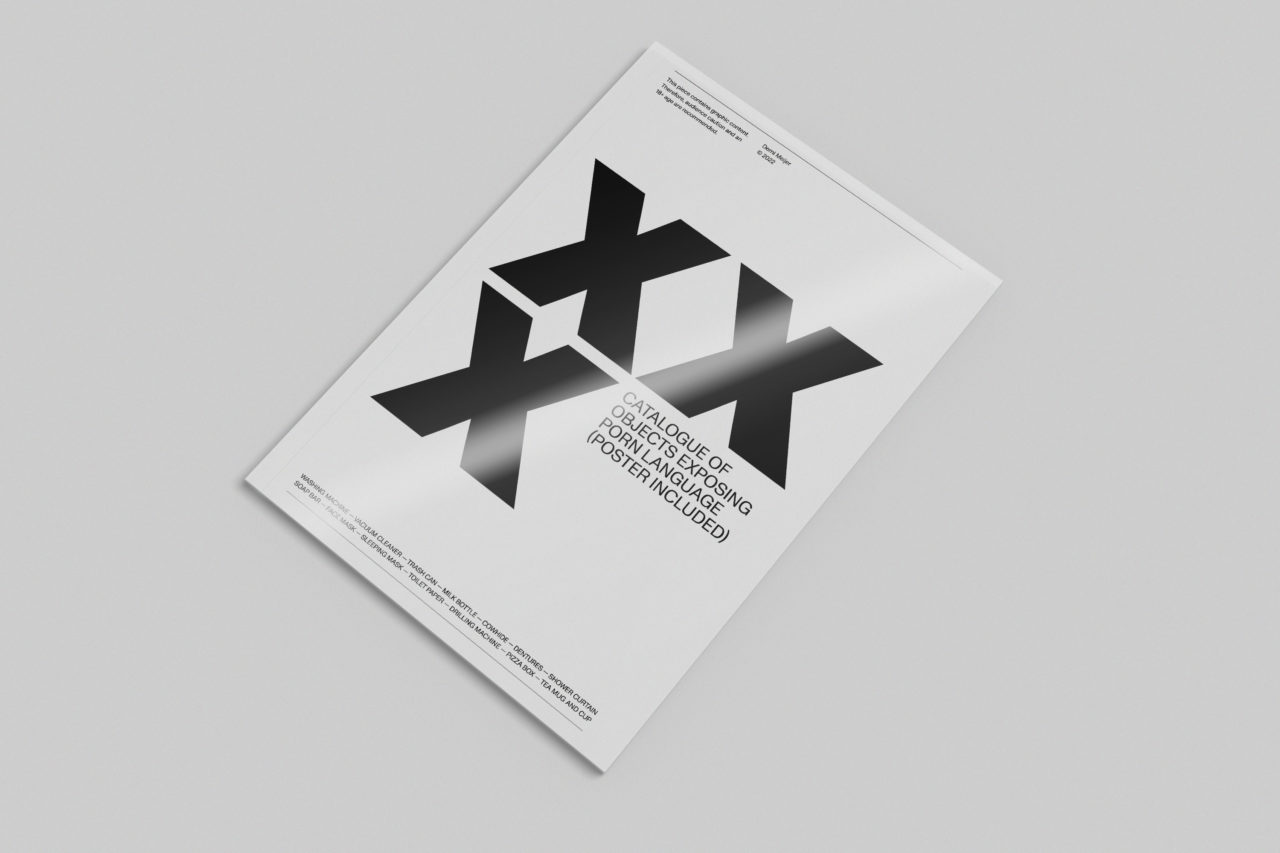 In this piece, I explore how the language used in mainstream porn titles influences our everyday lives and sexual experiences. Decontextualising the erotic titles used to advertise the fantasies of some of its most popular categories (incest porn, rape porn, and so forth) may seep into our everyday. Researching the most popular pornographic website — Pornhub.com — I took a selection of graphic titles, feeding into what could be hypothesised as "the male fantasy", and placed them on relevant inanimate objects — a washing machine, toilet roll, a milk bottle and so forth — removing the titles from the pornographic context and into their object-reality in order to see them for what they actually are.
"My Stupid Stepsister Stuck In A Washing Machine And I Fucked Her Tight Ass"

Pornhub.com
In doing so, the titles quickly became an integral element of the objects, evoking a startling effect. Alongside these titles, every object also features the original video's views, likes and dates, highlighting the reality that "My stupid stepsister stuck in a washing machine and I fucked her tight ass", with 3.1M views and an 82% like ratio, still highlights the washing machine as the videos "third star".
Overall, I wish to exemplify the aggressive language used and begin a conversation as to why this language is deemed acceptable and how this has become "the norm". In a world where pornography is consumed by the masses, I ask: Why do we not talk about its everyday influence? How do these titles exemplify the power dynamic within sex between men and women? And what are the places our minds enter and are influenced by the aggressive language used?
I encourage you too to ask these questions and join me on this journey as I continue to search for new, astounding and evocative pornographic titles.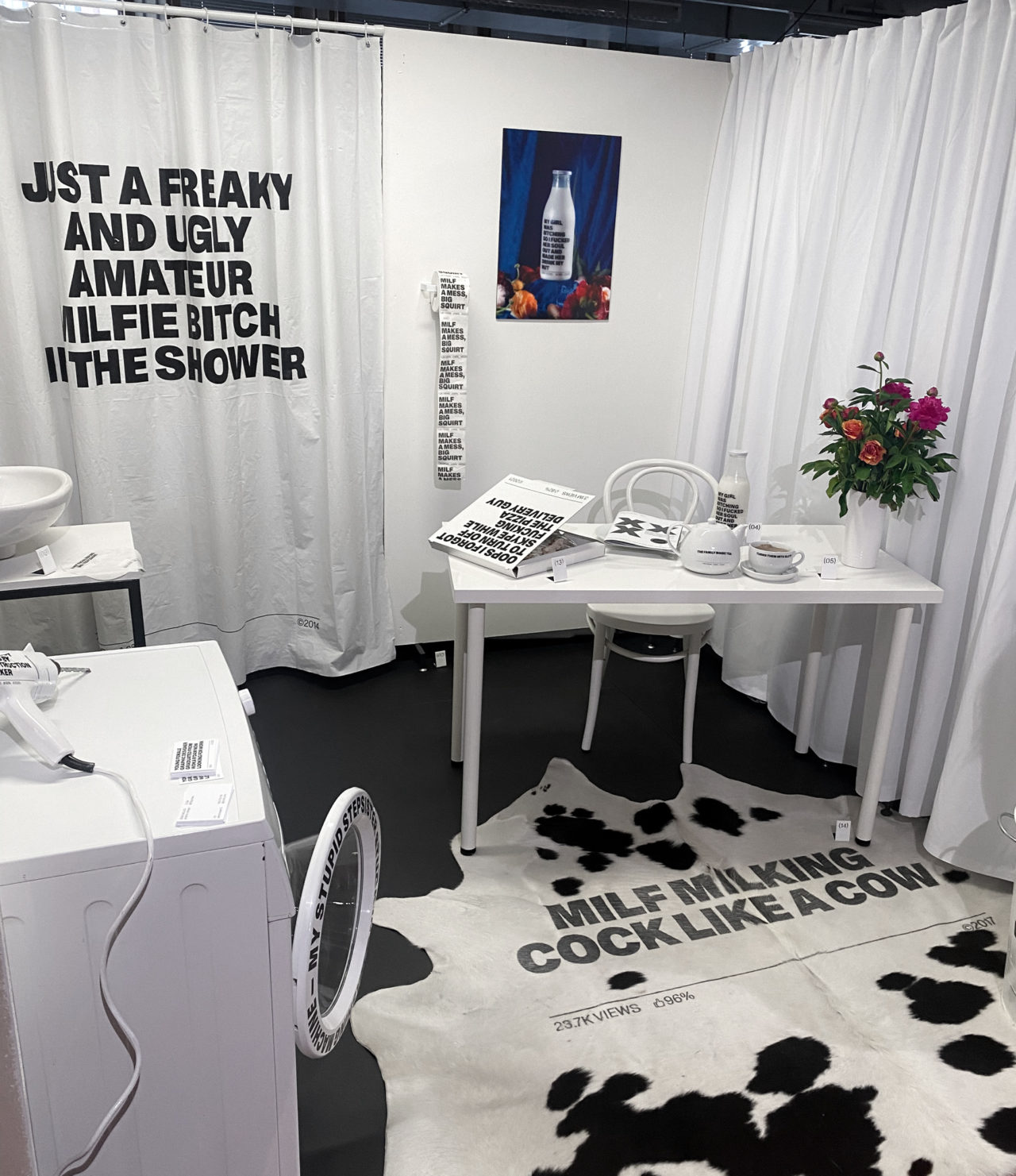 PHOTOGRAPHY BY:
Joost Termeer
TEXT EDITOR:
Grace Powell
SPECIAL THANKS TO:
Andry van Komen, Baschz Leeft and Wilco Lamberts — WdKA Publication Station, Ben van den Kolk, Ellen Luff and Tom Watkins — Peregrin Studio, Gabrielle Marks, Keren Avrich, Marline Bakker — Glamcult Studio, Ryan Frisk, Teun Castelein, Wout van Steensel.
RECOMMENDATIONS:
bellesa.com, bluearchitokefilms.com, fightthenewdrug.org, lustcinema.com. EVENTS — Seks Festival Tivoli Vredenburg, SMUT Porn Film Festival. BOOKS — Sexual Violence as a Sexual Script in Mainstream Online Pornography by Vera-Gray et all.,
Ways of Seeing by John Berger.
© 2022 Demi Meijer
www.demimeijer.com